We are your essential ally throughout the college admissions process.
We help students in every phase of their education. That is why we provide everything from SAT/ACT test prep to college application and essay coaching, academic tutoring, college advising, and College Night seminars. With college admissions more competitive than ever, students must excel in each of these realms in order to optimize their applications.
We work with clients on their terms: when they want to meet, how often they want to meet, and where they want to meet. In the Greater Philadelphia Area, our tutors can come to the comfort of your own home, or meet at a local bookstore or coffee shop. But we can work with a student anywhere in the world. Through FaceTime and Skype, we have worked with students nationwide and internationally—to date, in 36 states and 20 countries—on SAT/ACT test preparation and college application and essay coaching.
We build close, personal relationships with students and their families. By working with students throughout so many phases of their educational journeys, we understand their character, passions, and goals and how to best support them in achieving their dreams.
We foster strong community relationships, too. We offer educational support and enrichment services to private clients, groups, community organizations, and schools at an excellent value.
We empower students, preparing them for future success. It is not just about getting students the correct answer on one test or meeting the deadline for an application. We instill confidence in students, equipping them with the critical thinking, analytical, organizational, communication, and self-reflection skills needed to reach success in all future endeavors.
Our Process
Giving parents and students a roadmap to success.
Before families ever spend a penny on any Ivy Experience services, we want to make sure that parents and students have a roadmap to approaching various facets of the college prep process.
For families with 8th–10th grade students, we put on complimentary College Nights. Organize a group of parents for a live online seminar so everyone can attend from the comfort of their own homes, or invite other parents to your home, and we will provide a comprehensive overview of how to navigate high school and the college application process.
Before starting any SAT/ACT test prep tutoring, we send students diagnostic tests, which we grade and evaluate for FREE, ensuring that every student picks the best test for them before starting any prep work.
During junior year and the following summer, we start meeting with students and parents to brainstorm ideas for college essays and discuss packaging strategies for applications. The initial consultation is free.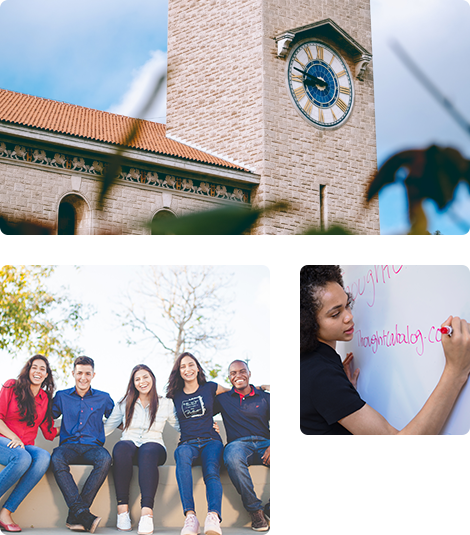 Emphasizing the importance of giving back since 2010.
Over the years, Ivy Experience has forged numerous partnerships to promote equity and access in the college admissions process—from providing SAT/ACT prep to underserved students to sharing invaluable information through presentations at high schools and community organizations.
Learn More
Our Team
Ivy Experience is proud to have a team of outstanding educators who build strong relationships with students and families—and get results!
Leadership Team
Eric Karlan Co-Founder & Application/Essay Coach

Eric is one of the co-founders of Ivy Experience. He graduated Cum Laude from the University of Pennsylvania with a Bachelors in Journalism, History, and Culture; he was one of only two students in the Class of 2009 to design his own curriculum for an Individualized major. Since graduation, Eric has consulted thousands of high school and graduate school students on their college and graduate school application essays and resumes across the country and around the world. Eric enjoys playing tennis, traveling, and rooting for Philadelphia sports teams from his home in South Florida with his wife and two daughters.

Karan Shah Co-Founder & Application/Essay Coach

Karan is one of the co-founders of Ivy Experience. He graduated from the University of Pennsylvania with a Bachelors in Bioengineering and a minor in Engineering Entrepreneurship. Since graduation Karan has worked with hundreds of students on SAT and ACT Test Prep. Karan also works with students on their college and graduate school application essays across the country and around the world.

When not working with students, Karan enjoys playing hockey, making divots on the golf course, and dealing with being a New York sports fan living in Philadelphia.

Jim Wismer Director

Jim is the Director of Ivy Experience. A Philadelphia area native, he attended The University of Pittsburgh on an Honors Full Tuition Scholarship, graduating summa cum laude in 2013. He went on to earn his M.A. in Classics from Notre Dame, where he also taught Latin, Ancient Greek, ancient history, and mythology. Jim's tutoring career started in 8th grade, and he brings to the team a broad range of experience in secondary and higher education. Jim believes that any student can learn anything, if that student works smart and gets the right help.

In addition to his work with Ivy Experience, Jim works occasionally as a track meet official at Great Valley High School, where he was once a student. In his free time, he enjoys yoga, camping, playing with his Doberman, following the Eagles, and reading.

Alyssa Coltrain Director of College Admissions

Alyssa earned her Bachelor of Arts in French and English (magna cum laude, honors in French) from Dickinson College in 2011. She then went on to earn her Master of Arts (2015) and Doctor of Philosophy (2019) in Literatures in English from Rutgers University. Her dissertation, Saintly Borrowings: The Hagiographic Impulse in Late Medieval Texts, focused on the way secular writers in the late Middle Ages used specific modes of thinking that originated in medieval hagiography, or the biographies of saints to resolve and interrogate pressing social and economic anxieties.

Alyssa has been interested in teaching and writing since college, from an internship with Milan Presse in Toulouse, France, and her work as a tutor in the Dickinson College Eberly Writing Center to revisions of her novel on her laptop. Her teaching experience includes English as a Second Language as a language assistant in France and as an instructor for FLS International as well as composition courses, literature surveys, and medieval literature for Rutgers University, Raritan Valley Community College, and Chestnut Hill College. She has worked one on one with students to assist them with the college admissions process as a tutor and mentor since 2017.
Essay and Application Coaches
Caroline Cilio Assistant Director of College Admissions

Caroline graduated magna cum laude from the University of Pennsylvania in May 2015 with a Bachelor's degree in Health & Societies and a minor in English. She later earned a Master's Degree in Bioethics from the University of Pennsylvania School of Medicine, where she focused on human subjects research ethics and American health policy.

In 2017, Caroline moved to Washington DC to pursue her passion for bioethics and healthcare policy. She worked at the National Academies of Sciences, Engineering, and Medicine, where she published research on topics such as the effects of isolation and loneliness in older adults and how to return genetic research results to patients. She then joined Roche/Genentech's US Regulatory Policy Team, where she analyzed and communicated policy trends, analysis, and intelligence to internal and external stakeholders. Through these positions, Caroline has gained experience writing for a variety of lay, academic, legal, and professional audiences.

Caroline joined Ivy Experience as a Test Prep and Academic Tutor from 2015-2018, working with over eighty students and leading several ACT prep courses at high schools in Philadelphia, Pennsylvania, and Prince George's County, Maryland. She now lives in Philadelphia with her fiance and two adopted cats, Clove and Oreo. She loves attending indie rock concerts, reading books on psychology, and outdoor hiking and camping.

Jordan Holmes Assistant Director of College Admissions

Jordan graduated from the University of Pennsylvania in 2015 with a Bachelor of Arts in Architecture and is currently pursuing a Master of Education in Enrollment Management and Policy from the University of Southern California. He has extensive experience working in admissions offices around the country, including the University of Pennsylvania, American University, and most recently the University of Southern California.

His career in admissions began as a tour guide and student worker at his alma mater, eventually transitioning to a full-time staff member. He left admissions to pursue architecture but quickly returned for the long haul. After reading thousands of applications, Jordan looks forward to working directly with students and sharing insights on how they can highlight what already makes them stand out in the admission process.

When not working with students, you can find Jordan reading, riding his Peloton, or rooting for the Patriots.

H Ulrich College Admissions Specialist

H graduated magna cum laude from Shippensburg University in 2007, earning her Bachelor of Arts degree in English. She later went on to West Chester University to attain her Master of Arts in English (Writing Concentration) in 2014. Serving as Assistant Director at the West Chester University Writing Center, H helped students navigate the requirements of academic writing while always striving to help them evoke and develop their individual voices. Her work included providing outreach to remote and nontraditional students, as well as exploring the peer tutoring process with students and faculty alike.

Outside of academia, H writes fiction and tabletop roleplaying games, and will happily talk your ear off about either. She enjoys being truly dreadful at a great number of video games and building miniature figures and robots.

Azure Leffeld Portfolio Consultant

Azure began his creative career at Pratt Institute, graduating magna cum laude with a BFA in Film Production.

During the six years he lived in Brooklyn, he honed his storytelling and content creation skills while working as a freelancer in the NYC film industry.

While completing his degree at Pratt Institute, he began working in the Office of Admissions. It was there he discovered his unique ability to apply the creative philosophies of his degree to help craft the applications and portfolios of degree-seeking students.

He has worked in admissions for Pratt Institute and The Parsons School of Design, two of the world's highest-ranked Art and Design Colleges.

Azure has been a National Association for College Admissions Counseling (NACAC) Member since 2022 and is certified as an Independent Educational Consultant.

Thanks to his unique exposure to the creative industry and higher education, Azure can offer his clients unparalleled insight and instruction when embarking on their creative endeavors.

Angelica Wekwete College Admissions Specialist

Angelica graduated cum laude from Cornell University with a Bachelor of Arts in English and from SOAS, University of London with a Master of Science in Research for International Development. She wrote her undergraduate thesis on generational trauma captured in literature and her master's dissertation on the dynamics of the informal economy in sub-Saharan Africa.

As a tutor, Angelica has had the opportunity to guide students in English and Language Arts classes and college courses. She is passionate about helping students unlock their communication potential and feel comfortable expressing themselves. In her free time, Angelica enjoys reading, cooking, and traveling.

Teddy Allor College Admissions Specialist

Teddy, who goes by either they/them or he/him pronouns, graduated with honors from the University of Maryland in 2014 with a Bachelor's degree in English, a minor in Creative Writing, and a certificate of completion for the Jiménez-Porter Writers' House living and learning program. After focusing on his professional career for several years, he attended graduate school at Syracuse University, where he completed his Master of Fine Arts degree in Creative Writing in 2022. Teddy taught both composition and creative writing courses at Syracuse University while working one on one with students through the SU Writing Center. They also served as both a Senator in Syracuse University's Graduate Student Organization and as the MFA Student Representative in various departmental and organizational committees. As part of his thesis project at Syracuse, Teddy completed the first draft of a fantasy novel, which he is currently revising for publication. In addition to his academic work, Teddy has experience as a copy editor/writer in the non-profit, pharmaceutical, and electronics manufacturing fields.

When he's not brainstorming how to best help students tell their own stories, Teddy enjoys playing with his two cats, dreaming up new worlds, and working out in the gym.
Tutoring Team
David Pauls Client Management Coordinator

David graduated cum laude from The College of New Jersey in 2016 with a degree in physics. He realized during his time there that he thoroughly enjoyed tutoring his fellow TCNJ students, and hopes he can show just how fun physics and math can be.

David researched astrophysics during his time at TCNJ, and with the help of his colleagues had a paper accepted to The Astrophysical Journal. His true passion however is music, as he is always in a choir or a capella group, arranging, composing, or recording. David finds the mathematics behind music fascinating, especially relating to harmonics and tuning. He also likes to play Super Smash Brothers Melee competitively.

Torie Berke Assistant Director of Tutoring / Accommodations Specialist

Torie graduated cum laude from Bryn Mawr College in 2019 with a Bachelor of Arts in Chemistry and a minor in Museum Studies. They began peer tutoring in STEM subjects as a high school sophomore and have not spent more than a month away from math and science tutoring since then. Torie is passionate about the intersection of STEM and artistic subjects and deconstructing the "math person" vs "English person" dichotomy. They specialize in tutoring students with learning differences.

When not teaching or tutoring, Torie can be found playing with their dog, baking pies, and weaving tapestries.

Evan Petrie Tutoring Specialist

Evan graduated magna cum laude from the Lewis Honors College at the University of Kentucky in 2021, earning both a Bachelor of Science degree in Mechanical Engineering and a Bachelor of Arts degree in Classics. As a college student, he was an active member of the Tau Beta Pi Engineering Honor Society, served as chapter president of Eta Sigma Phi Classics Honor Society, helped the university's Solar Car team achieve their first win at the Formula Sun Grand Prix, and worked with a local community Shakespeare troupe in his free time.

With over seven years of private, professional, and volunteer experience tutoring students of all ages, Evan recognizes that a student's success is bolstered by their tutor's active and enthusiastic support. By responding effectively and encouragingly to each student's unique needs, he is confident that he can help any student achieve their academic goals.

In his free time, Evan enjoys learning digital art, practicing the banjo, and exploring his adoptive home of Philadelphia. He loves cooking, traveling, and expanding his horizons.

Kevin Riffitts Test Prep and Academic Tutor

Kevin graduated from Temple University with a degree in Advertising, and passions in film, economics, and journalism. He is an experienced tutor, who started peer tutoring after realizing he could turn "going to class" into an economic opportunity. He loves explaining new ideas and concepts to students and believes that, with a little know-how and effort, any student can improve their standardized test scores.

When not tutoring, Kevin can be found running, reading, and explaining why that Jeopardy! category is really too niche to be considered "general knowledge."

Lucas Voit Test Prep and Academic Tutor

Lucas graduated from Haverford College Summa Cum Laude with a bachelor's degree in history and a minor in environmental science. He is now enrolled at Columbia Law School as a JD student and has deferred his enrollment for a few years. He is currently working for an international law firm in Paris.

In his free time, Lucas enjoys cooking, rock climbing, and skiing.

Sofia Adams Test Prep and Academic Tutor

Sofia studied electrical engineering at the University of Pennsylvania. For her first job out of college, she was tasked with learning how to code in assembly language and in C, something which was not part of an electrical engineering curriculum prior to the advent of the coding era.

After a career as a software engineer, Sofia raised two boys. During that time, she taught fitness classes, pursued her love of gardening, baked Greek desserts on-demand, was a super-volunteer at her kids' small Quaker school, mentoring new families as they became part of the school community, and began assisting families with the college application process once her own kids achieved their college goals.

Sofia enjoys traveling, especially when in pursuit of warm climes and Caribbean carnivals, dancing, growing weri-weri peppers in her backyard, cooking, and above all, she loves the beach.

Dalton Versak Test Prep and Academic Tutor

Dalton graduated cum laude in 2018 from Drexel University with a bachelor's and master's degree in mechanical engineering. He also has a graduate certificate in engineering management. Since graduating, Dalton has started his own 3D printing business and co-founded a company that is developing strategic board games. Dalton has been tutoring for eight years, beginning with tutoring his peers in high school AP courses. He has successfully prepared students for the SAT/ ACT, as well as AP Physics C, AP Chemistry, AP European History, AP US Government, AP Calculus BC, AP US History, Precalculus, and various college-level math and engineering topics.

Dalton finds tutoring to be very rewarding and greatly enjoys helping students better understand and succeed with challenging academic subjects.

Hannah Bonaguidi Test Prep and Academic Tutor

Hannah graduated from Lehigh University in 2020 with a BS in Chemical Engineering. In her time as a student at Lehigh University, she was a Division I Cross Country and Track and Field athlete for the Mountain Hawks and spent her summers interning at pharmaceutical companies. She is pursuing a career in the pharmaceutical industry.

Hannah started tutoring in middle school, helping her younger brothers' friends out with math to make some extra spending money. This side gig continued throughout high school. Once in college, she was heavily involved in the athletic department's leadership program. As a member of this program, she was available to other student athletes as an academic mentor. Hannah found that she was especially helpful when it came to calculus, chemistry, physics, and classes involving MATLAB.

In her free time, Hannah enjoys running, skiing, tubing down the Delaware River, and hiking. She loves to cook and read. If Hannah is not hanging out with her friends, you can find her with her husky, Tank.

Annie Maxwell Test Prep and Academic Tutor

Annie is a Philadelphia native who graduated from Wesleyan University with a bachelor's degree in the Science and Society Program, an interdisciplinary major that focuses on science, technology, and history. After graduating, Annie volunteered for a year as an AmeriCorps member working in public health and spent the following four years in clinical research at the University of Pennsylvania. More recently, she decided to pivot into the veterinary field and is currently pursuing the clinical hours required for admission.

Annie is passionate about academic mentorship and enjoys helping students recognize their strengths in order to build confidence. She was a resident advisor while attending college and taught and supervised rotating Drexel Co-operative students while working at UPenn.

John Thompson Test Prep and Academic Tutor

John is a lawyer, coach, and writer based in Philadelphia. He holds a BA in English Literature from Rutgers College and an MBA in Management and Leadership from Rutgers Business School. John spent the early part of his career in publishing and financial services, holding advisory and management positions at Ziff Davis, Merrill Lynch and Allstate. Upon obtaining his JD from New York Law School in 2000, John commenced legal practice as a defense attorney for a large firm and later opened his own practice in Princeton NJ. After practicing law for 14 years, he shifted gears and now dedicates his time to coaching, consulting, and tutoring. John has a passion for mentoring young people and helping them successfully navigate their academic and career pursuits. He does this with humor and a down-to-earth approach.

John is trained in ontological coaching, is active in the Rutgers Student Mentoring Program, and has served on non-profit boards and in volunteer roles dedicated to public justice issues. He periodically lectures at Montclair State University and is passionate about writing, hiking, photography, cooking, playing piano and hearing live music.

Tyler Birch Test Prep and Academic Tutor

Tyler recently graduated from Lehigh University's Integrated Business & Engineering honors program. He holds Bachelor of Science degrees in Mechanical Engineering and Business and currently works as a project engineer at a medical device company, designing devices for the spine. He started teaching in high school, when he served as a teacher assistant in local elementary school classrooms for three years. His volunteer work eventually progressed to tutoring, and since 2018, he has been teaching test prep as well as a variety of subjects.

Tyler encourages students to take as many notes on strategies as possible so they can break it down to the most fundamental form needed to retain that information. His teaching style is very hands-on, and he prefers to start by introducing a general strategy and having the student employ that strategy. He then flips the roles and asks the student to teach back what they've learned. "I believe that if you can teach somebody else a concept, theory, or strategy, that's the best indication as to whether you have fully mastered it or not," Tyler says.

Tyler played ice hockey and lacrosse through high school and continued to play ice hockey in college. He loves to spend time outdoors, whether it be on the golf course, going for a run, taking his dog for a walk, or going for a hike.

Steven Eble Test Prep and Academic Tutor

Steve graduated from The University of Scranton in 2018 with a Bachelor of Science in Biochemistry, Cell, and Molecular Biology. After college, Steve specialized in Analytical Chemistry and played an important role in helping analyze and quantify various chemicals and compounds using high-end analytical technology. During this time, he was a graduate research and teaching assistant and discovered a passion for helping others learn. He understands that everyone processes information in different ways and has a loving commitment to learning just as much as teaching!

Steve's special skills and favorite activities include building PCs, talking about chemistry and advanced analytical sciences, playing video games, gardening in or outside, and spending time at the beach.

Ian Matthews Test Prep and Academic Tutor

Ian Matthews graduated from The George Washington University in 2005 with a Bachelor of Arts in International Affairs and served with Peace Corps in Mrirt, Morocco from 2007 to 2009. Ian is currently pursuing a doctorate in political science at Temple University. As part of his graduate education, Ian has served as a teaching assistant and an instructor for courses–including comparative politics, quantitative methods, and political theory–at both Temple University and the University of Pennsylvania. Ian still enjoys the challenge of classroom instruction, though his teaching experience has taught him the importance of one-on-one tutorial support during office hours to help students reach their full potential.

When he is not educating students inside and outside of the classroom, Ian enjoys playing viola and piano, studying non-English languages (especially Arabic), tinkering with computers, and following Philadelphia sports teams. Ian also makes a habit of donating platelets at the American Red Cross (over 100 units lifetime and counting), both for its humanitarian impact and because he believes his exploits are "more epic" if he achieves them while low on red blood cells.

Ayo Adesunloye Test Prep and Academic Tutor

Ayo graduated from the University of Pennsylvania with a Bachelor of Arts in Mathematics in 2022. Tutoring was always a part of his academic career, but after graduating college, he really began to appreciate how rewarding the experience had been for him. Helping students get to those "aha" moments, where they finally understand a topic they had been struggling with, is one of the best feelings a tutor can experience. Ayo believes one of a tutor's most important jobs is helping their student become more confident in their ability to learn something even if they didn't initially understand it because so much of life is about learning.

In his free time, Ayo enjoys watching the Los Angeles Lakers play (he's never been to LA but he's a big Lebron James fan), learning to play the piano, and watching stand-up comedy.

Shohom Basuthakur Test Prep and Academic Tutor

Shohom graduated from the Wharton School of the University of Pennsylvania in 2014 with a Bachelor of Science in Economics and a concentration in Finance. The son of a lifelong educator, he sought to help others learn at an early age, volunteering in his mother's first-grade classroom as a middle schooler. Since then, he has worked with students and peers consistently and in varying capacities, including as tutor, mentor, camp counselor, and even assistant director for his high school alma mater's theater program. Shohom has been tutoring with Ivy Experience since 2017, and he relishes any opportunities to assist students in pursuit of their goals.

Shohom's passion for education extends into his professional life as well, where he currently wears the hat of Senior Product Manager at Scoir, a tech startup committed to expanding college access and improving student outcomes. When not working, Shohom can be found spending time with his family, geeking out over the latest Star Wars or Marvel release, participating in a local theatrical production, or getting his heart broken by a Philly sports team.

Josh Searle Test Prep and Academic Tutor

Josh graduated cum laude from Haverford College in 2021 with a Bachelor of Science in Psychology and minors in Neuroscience and Theater Arts. Josh began tutoring in middle school and quickly found that he had a strong interest in helping students recognize and capitalize on their own inherent strengths. Josh is a strong believer in being patient and building rapport with students to create a comfortable learning environment where students are more likely to make their own academic discoveries.

Josh now works as an instructional aide for Lower Merion School District, providing individualized academic and emotional support to students to build confidence and improve executive functioning. Outside of tutoring, Josh enjoys performing improv comedy, playing board games, going to trivia nights, and daydreaming about owning a dog someday

Annabel Kopell Test Prep and Academic Tutor

Annabel is a current student in a Doctorate of Pharmacy program, having graduated summa cum laude in 2021 with a Bachelor of Science in Cell & Molecular Biology. Though perennially a prolific student, in preparing for medical training, she optimized her studying habits even further. On the Pharmacy College Admissions Test, she scored in the 99th percentile, and as she progresses through the program, she retains a 3.9 GPA.

Annabel has worked as a tutor since high school in a vast variety of subjects, consistently improving not only outcomes but the students' interest in the material by sharing fascinating ancillary knowledge and drawing connections to other topics. For example, often faced with students with a disdain for math, she would transform their attitudes by getting them excited about fractals in nature or the geometry of architecture, and show them that fascinating things are all around them if they only cultivate the will and skills to look.

This philosophy influenced Annabel to pursue science academically, but she values well-roundedness and has always had a deep love for language and writing. She writes poetry and short fiction that integrates scientific themes and enjoys memorizing poems in other languages, as she also speaks Russian and Italian. She leads discussions in the book club she organized with friends, and still writes essays for fun when possessed by an idea, her most recent being about the connection between technological nostalgia and motifs in horror media. Additionally, Annabel manages and performs within a circus arts production company, carving out time for daily practice, organizing events, designing and teaching choreography, fabricating costumes and set designs, and holding classes to confer her skills with fans and fire. Annabel approaches everything she does with passion and meticulous methodology and hopes to share this spirit with everyone she meets.

Jordan Obi Test Prep and Academic Tutor

Jordan Obi is a senior at the University of Pennsylvania, currently pursuing a Bachelor of Arts in Communications. She is also a member of the school's Women's Basketball Team.

With an unwavering commitment to being a student-athlete, she understands the importance of time management, goal-setting, and maintaining a strong work ethic. Through working with Young Quakers, a program that establishes mentors for students from Penn's University-Assisted Community Schools (UACS) in West Philadelphia, she serves as a positive role model, inspiring and motivating those around her. She brings a unique perspective that encourages students to not only excel academically but also develop into well-rounded individuals.

Right now, Jordan serves as a Teaching Assistant for the Wharton Sports Business Academy. Outside of basketball and academics, she likes to DJ, listen to music, and spend time in nature.

Caitlyn Swiston Test Prep and Academic Tutor

Caitlyn graduated from West Chester University in 2021 with a Bachelor of Science in Biology (with a marine science concentration). She is currently pursuing a Master of Science degree in Biology at West Chester University. Caitlyn is a graduate research assistant and is investigating marine mammal hydrodynamics for her thesis. Specifically, her thesis is looking at the role of the hind flippers in sea lion and fur seal swimming and maneuvering. In January of 2023, Caitlyn had the opportunity to present her research at the Society for Integrative and Comparative Biology annual conference in Austin, Texas. Currently, she is working towards publishing a paper on her project.
During her time as a research assistant, Caitlyn has mentored high school as well as undergraduate students. She believes that anyone can be successful in their academics! Everyone has different styles of learning, but she will work with a positive attitude and patience to teach each student in the way that works best for them.
In her free time, Caitlyn loves to garden and hike. She loves animals, especially dogs, and can't wait to get one of her own.

Siobhan Daley-Gibson Test Prep and Academic Tutor

Siobhan Daley-Gibson is a senior at Barnard College of Columbia University pursuing a Bachelor of Arts in Mathematical Sciences. In her time at Barnard, she has also studied Education, Physics, and Computer Science. She currently works as a communications consultant for the Refugee and Migrant Education Network.

Siobhan has been tutoring math and reading for over eight years and has classroom experience as a student teacher. Siobhan believes that working through thought processes with students is imperative to help instill confidence and confidence is imperative to success.
In her free time Siobhan enjoys watching the Eagles, reading, traveling, and playing on Columbia's ultimate frisbee team!

Justin Gotzis Test Prep and Academic Tutor

Justin graduated with University Honors from Carnegie Mellon University in 2022 with a Bachelor of Humanities and Arts in Fine Art and Global Studies. Justin has enjoyed tutoring a diverse clientele through organizations such as Big Brothers Big Sisters of Bucks County, Ringle, and Carnegie Mellon's Pre-College program. He loves finding new ways of getting information to "click" with his students. Justin's art and writing have been exhibited and published internationally through venues such as the Yale University School of Art and WIRWIR Gallery, Berlin, and he was an artist-in-residence at Chautauqua Institution. He also loves Pokemon, DJing, and playing with his family's Bernedoodles, Bodhi and Luna.
We also offer complimentary webinars & seminars
Our seminars have been the ultimate introduction to the college prep process, even for families that have been through it before, with the college prep environment constantly changing.
Learn More