If you're reading this post, hopefully you have a test prep plan in place and have decided on a date to take the ACT.
If not, see below for the 2016 ACT dates. And feel free to contact Ivy Experience to figure out the best test date and test prep plan for your unique situation.

So how do you register? Find out here…
Before you start
Here is a list of everything you'll need to register:
About 40 minutes (closer to 20 if you skip the optional info)
A computer with internet access (if you're reading this, I guess you have one)
Credit card or other form of payment (the test will be $58.50)
Basic details about your high school course
A headshot photo (more on that below)
Create an account
Follow this link to get started creating your account. That should bring you to this screen: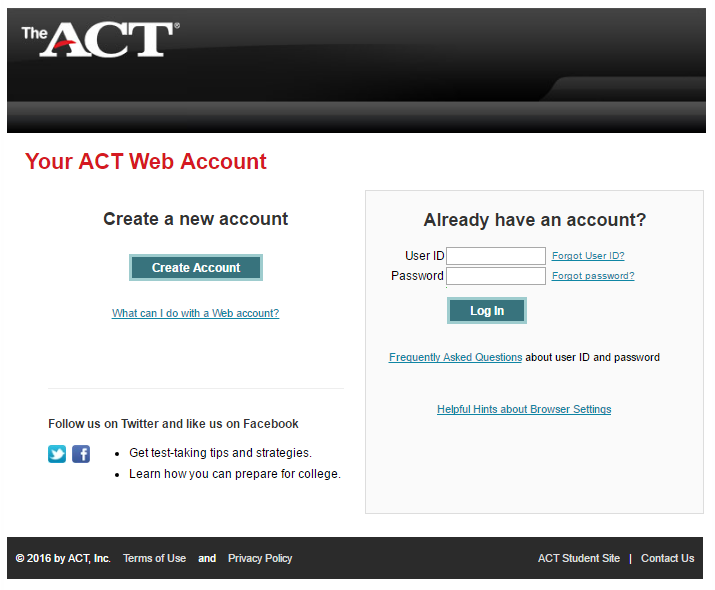 Next, click "Create Account."
You will be guided through answering questions and providing some basic info about yourself.
Early on, you'll be asked whether or not you want to opt in for "Parent Reminders." We recommend that you do. There is no harm in it, and they'll let parents know when scores become available, etc.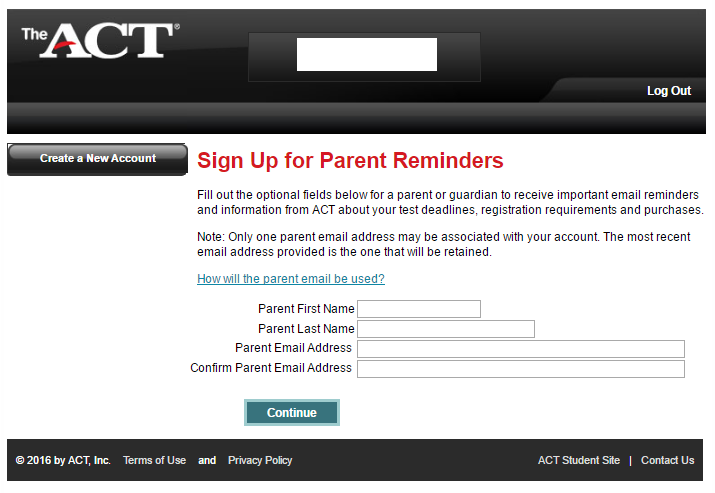 After you've created your account, youcan finally
Register for the ACT
First, you'll be brought to this screen, where you'll click "Register Now!" (Clearly they are much more excited about it than you are.)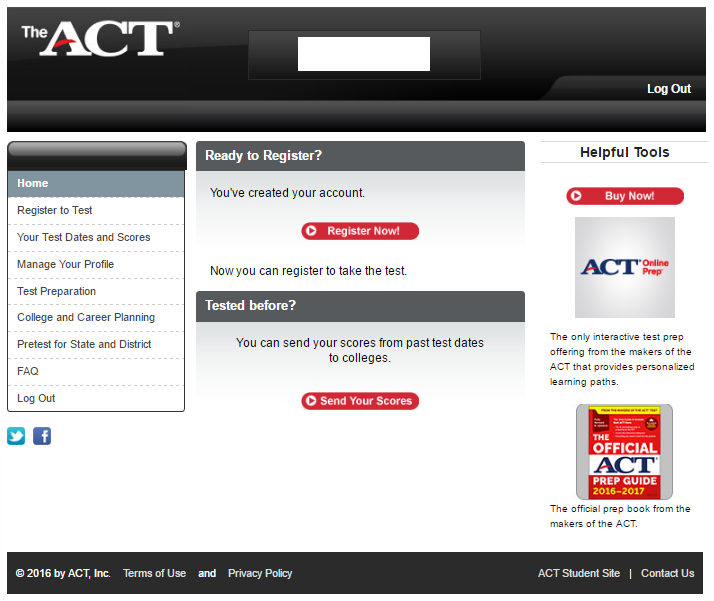 Once you click through, you'll answer a question and then be brought to the "Your Information" page, most of which will auto-filled from your account info. Fill in the rest and hit "Continue."
Now here is what the ACT doesn't want you to know… after the Your Information page… almost all of the personal info you provide is optional! Of on this sidebar within the blue background, "Your Information" is the only necessary page to fill: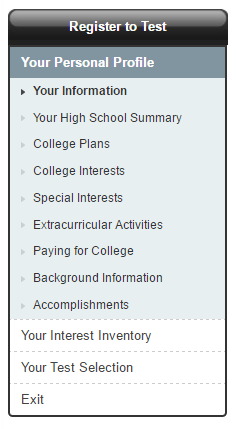 If you don't want to share any more, skip to "Your Interest Inventory"
ACT's "Interest Inventory" is a short, 72 question career quiz… Which you also don't have to do! But you can if you want..
If you go to the next item down on the sidebar, "Your Test Selection," you can get going on the important stuff. You'll be prompted through a few questions until you get to this page: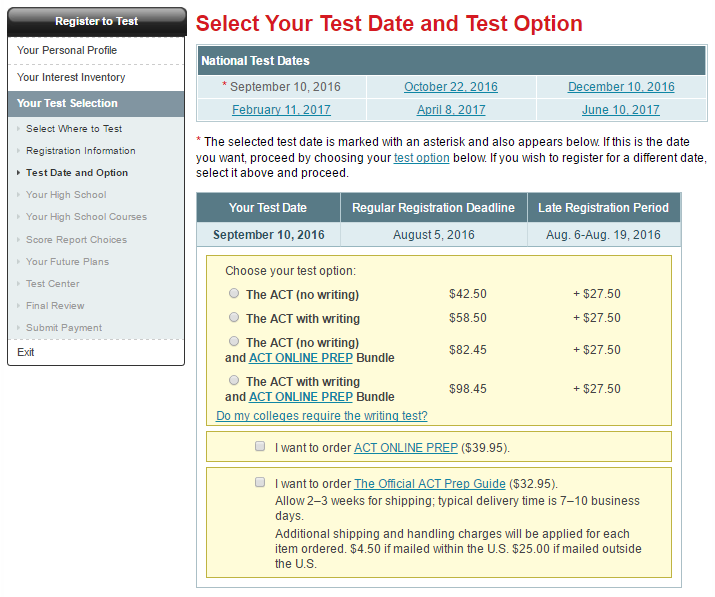 A few important notes for this page:
Unless you know where you are applying, and you know that they DON'T require the ACT with writing, you should always register for the ACT with writing. Some schools require the writing portion of the test, and some of those schools won't consider your other 4 section scores or your Composite score from a test date without the writing portion. Cover your bases and commit to the extra 40 minutes.
If you are an Ivy Experience student, do not order the Official ACT Prep Guide. You either already got one or you will soon – it's free with your Ivy Experience tutoring. 
Once you click "Continue" at the bottom of this page, you will be reminded to upload a headshot photo. You do not do this now. They will prompt you later. The ACT is very picky about their photos, so make sure to follow their rules so you don't have to do it twice (or three times…) You are permitted to upload a selfie (and from a mobile device), but PLEASE no duck face. Here are the basic rules: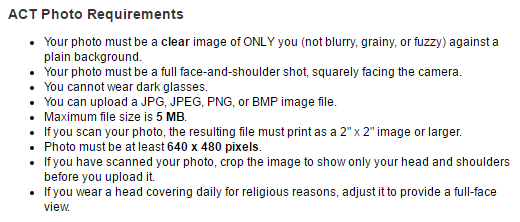 Every test date has a deadline for photo submission. Again, ACT will prompt you to do this; it is not part of the initial registration process.

Once you've read the photo upload rules, hit "Continue."
Next, you'll be prompted to add basic details about your high school coursework. The page will look like this: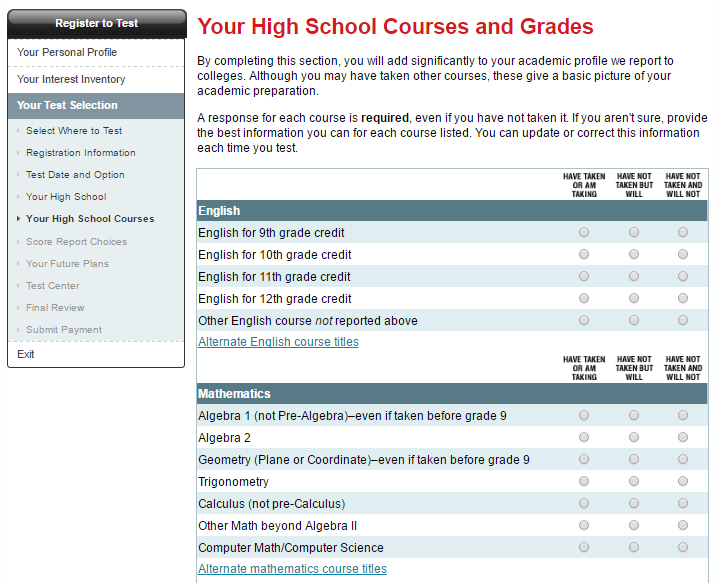 Unfortunately, this one is required. Dispense with the boring stuff and hit "Continue."
You'll now be asked about your high school grades. This info is optional. Fill it out or not and hit "Continue."
Next you'll be brought to the part of ACT registration that most students goof on: Your Score Reports and College Choices. DO NOT CHOOSE TO SEND YOUR SCORES TO ANY SCHOOL BEFORE YOU GET TO SEE THEM (unless you're taking the ACT late as a senior and schools need the scores ASAP). What if you do poorly? You own your ACT scores, and you get to pick who sees them. There is no reason Harvard should know that you had a bad day. Yes, it costs money to send your scores later in the process. Despite that, the advantage of controlling exactly what ACT test dates your colleges see is well worth the money. Click "Continue" without doing a thing.
Next you'll be asked about Your Plans for the Future. They'll ask you about both your intended college major and your intended career path. This is required, but you can choose "Undecided." Tell them, then click "Continue."
Next you must select your Test Center. The easiest way to do this is to enter your zip code into the second box and search what nearby centers are available. Hopefully your high school is one of them!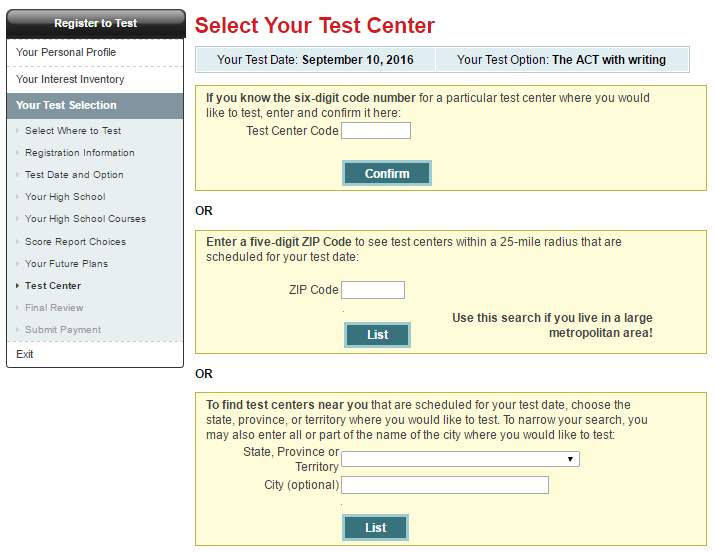 After choosing your desired test center (or choosing from what's left, depending on when you register), you'll be prompted to review your information and then enter your payment info. Review the info, enter your numbers, and you're all set!
Hopefully that wasn't too painful for you. If you have any remaining questions, feel free to give us a call at Ivy Experience: (267) 888-6489. Good luck!